Hello all!
I'm pleased to announce the following Prison Season Three winners!
Congratulations to:
Cell #1 ($200) - CuteSenpai
Cell #2 ($125) - Sobieralski
Cell #3 ($100) - LewisB1
Cell #4 ($75) - FredaSlqves
Cell #5 ($50) - Woasted
Season Four will be available to play on Friday, June 26th, and will feature a variety of updates as well as bug fixes to ensure smooth gameplay. We are working very hard to get this update completed!
In the meantime, please enjoy this podium picture of this season's winners: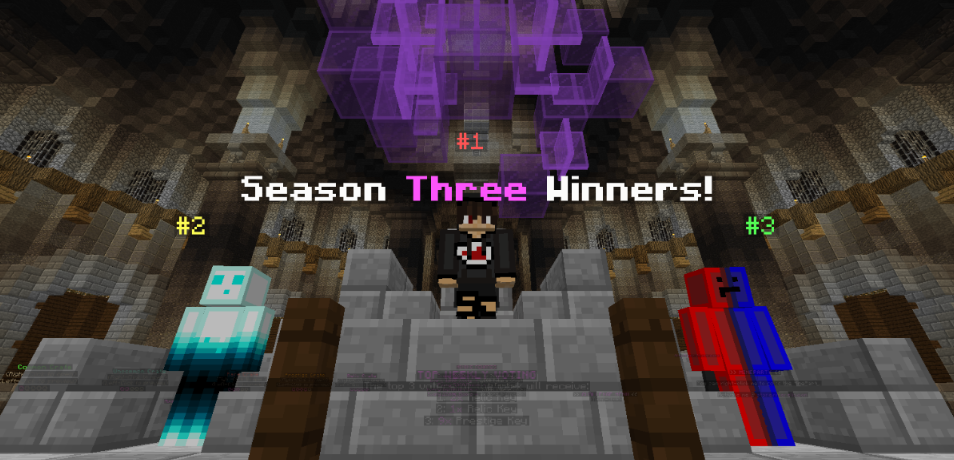 Hello all,
The hub has officially been released to the public!
For those who haven't seen, the hub is no longer open to beta testers only. Player's can now use the realm selector to peep the upcoming features for our Prison and Skyblock servers. Players can also play around with our custom settings menu and hang out in the hub as well
As of tonight:
Prison and Skyblock have both been completed, however, we will need another day or so to polish off a few features and fix any bugs that might arise.
We will be doing a nice giveaway for the release of the server! For info please check the giveaway channel @ MineRelic.com/discord
In the meantime, please enjoy this fancy picture of the hub taken by Darkveo